Best Limousine Rental Service for Crossfield and Carstairs
by ampmlimo, on Oct 19, 2020 8:50:03 AM
Rural towns throughout Central Alberta are the life-streams connecting us all across this wonderful province. AM PM Limousine & Party Bus is proud to continue to be there with the very best limousine rental service for Crossfield and Carstairs. Highway 2, or the QEII, is an important corridor for AM PM. With our main office in Calgary and locations in Edmonton and Lethbridge, our luxury limousine rentals can be seen pounding the pavement of the QEII on a regular basis.
Unlike some companies, AM PM Limousine appreciates our rural limousine customers. If your location can be driven to, let's talk. The cost of reaching out to rural areas is a little more, yet AM PM Guarantees the Lowest Price for the same arrangements. We are able and willing to work with our customers with pricing on our line of 2, 10, 14, 16 and 20-passenger limousines.
Best Limousine Rental Service for Crossfield and Carstairs
The more time a limousine is needed, the better the hourly rate. ⠀
Cost-sharing a limousine, when compared to alternatives such as a taxi or an Uber, is much less expensive than your group getting to where you're going independently. ⠀
Luxury transportation with every style of a limousine from AM PM Limousine & Party Bus. ⠀
Price estimates: Limousine per-hour/passenger per-hour⠀
Lincoln Stretch Limousine – 10-passenger at capacity ⠀
$110 to $200 per-hour ⠀

$11 to $20 per-person/per-hour ⠀
Ford Expedition Stretch SUV – 14 passenger at capacity ⠀
$120 to $165 per-hour ⠀

$12 to $16.50 per-person/per-hour ⠀
Dodge RAM Pickup Stretch (extra storage) – 16 passenger at capacity ⠀
$220 to $264 per-hour ⠀


$13.75 to $16.50 per-person/per-hour ⠀
PINK Dodge RAM Stretch (extra storage and appeal) – 16 passenger at capacity ⠀
$229 to $265 per-hour ⠀

$14.50 to $17.50 per-person/per-hour ⠀
Hummer H2 and GMC Suburban Stretch SUV – 20 passenger at capacity ⠀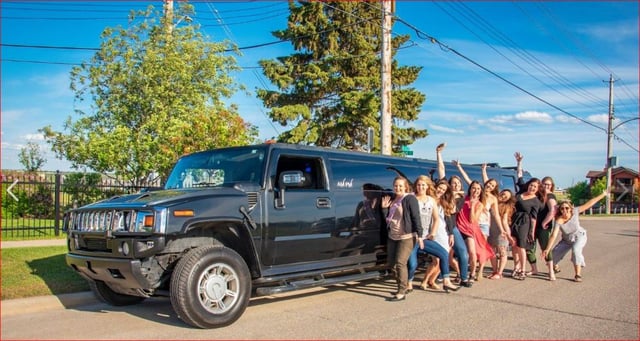 $248 to $310 per-hour ⠀
$12.50 to $15.50 per-person/per-hour ⠀
Every limousine customer expects limousine quality. And rightly so.
AM PM Limo has many sizes and styles of limos to choose from, and all come as expected. Plush leather seating with classic trim is standard in all of our limousines, even our beautiful 16-passenger Pink Dodge RAM limo is decked out in fabulously-pink leather.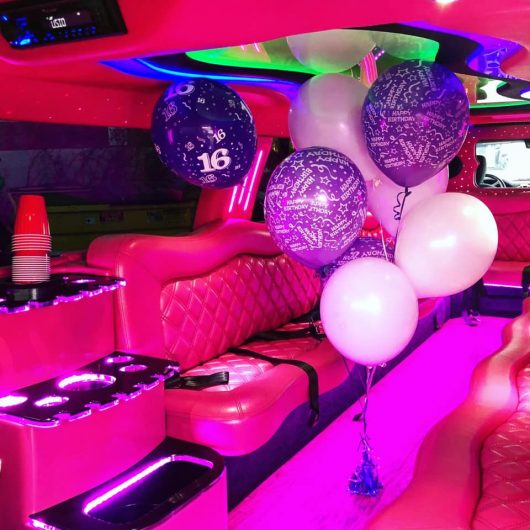 Sound and Vision is alive and well in today's limousines.
Visuals? AM PM has gone the extra mile (yeah, I know), with the LED or Laser lighting systems that adorn all the limo interiors. Just more fun, or a little ambience.
Sound is an important function, whether it's just the two of you in the sedan-styled classic Lincoln stretch or to the multi-passenger SUVs and Trucks. Sound systems (once called stereos) are all easily accessible from your device through Bluetooth or direct USB or AUX plug-in.
Special Price Packages for Carstairs and Crossfield Weddings and Event
Whether it's a small intimate wedding with just a few in attendance or the all-out barn-filled gathering, limousine service at a wedding really does put the icing on the cake. ⠀
The Lincoln stretch limo is losing a little favour to the idea of having more room in the SUV and Truck limos. The interiors of the larger limousines are spectacular. ⠀
Bringing your friends and family into the big-city has never been so much fun as in the likes of a Hummer H2 Limo or a body-lifted, pink Dodge RAM Truck stretch limo (in black or white as well).
Bachelor or bachelorette parties, pub-crawls, team events, corporate outings, theme parties or whatever you have the need for, AM PM Limousine has your answer in size and style. Whether you need a luxury sedan for an airport transfer or a party bus rental for a big birthday party, AM PM has all you need for any and every special event!
Crossfield
Crossfield is just 50-odd kilometres north of Calgary, just off on Highway 2A. This town of over 3,000 residents is another example of how Alberta's small towns just continue to grow. Must be something about the lifestyle.
Just south of Crossfield, excellent golf awaits at the Collicut Siding Golf Course. Taking in any of the parks in and around Crossfield while finding many choices for dining or shopping. The largest outdoor recreation area is McCaskill Park, offering many different sports like track, BMX, soccer, baseball/softball. If you're in sports, maybe you've played in a tournament here. ⠀
Carstairs
Just north of Crossfield is Carstairs, about 65 kilometres north of Calgary with a population that continues to grow as well, now sitting at well over 4,000. Just off the QEII on Highway 2A, Carstairs is like many small towns in Alberta, growing and offering more. Dining selection has never been better, local art and history, shopping, golf, curling, hockey. The larger you get, the more you have to offer. That's Carstairs.
AM PM is available for all transportation services you may need in Crossfield, Carstairs and area. Offering both party bus and limo service for all of Alberta, AM PM Limousine & Party Bus Calgary, Edmonton and Lethbridge. Give us a call for a quote today!