One Last Wild Night: How to Plan a Stag/Bachelor Party in Calgary
by ampmlimo, on Apr 25, 2019 11:51:01 AM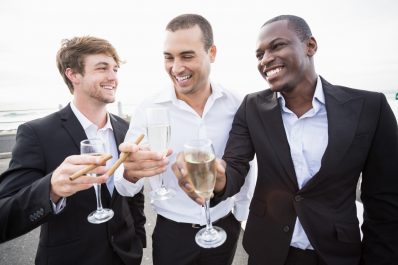 CALGARY

LIMO

STAG

PARTY

FUN!
ONE LAST WILD NIGHT: HOW TO PLAN A STAG/BACHELOR PARTY IN CALGARY
Got a buddy who is tying the knot?
It's an honour to stand beside a close friend as his groomsman or best man. But this role is so much more than putting on a tie on the big day!
There are all types of groomsmen responsibilities you'll need to fulfill. But of all the things to plan, the stag party is by far the most exciting.
It's your buddy's last night as a bachelor, and you want to make sure he celebrates it right. Are you in charge of planning the bachelor party?
Will the group be celebrating in Calgary? Will you need transportation? There are many limo services in Calgary that can make the night a lot less stressful than public transportation.
Here's how to throw the ultimate last wild night in Calgary.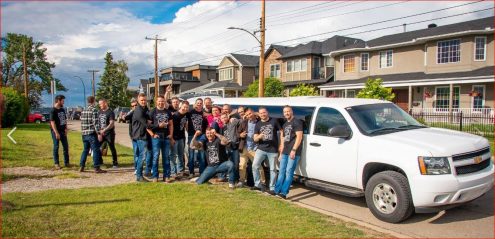 Understanding the Meaning of a Stag
What is a stag, anyway?
Stag refers to an event involving men only. The meaning stems from the word "stag", which is another name for an adult male deer. A stag party is also another word for bachelor party.
A Stag Party is an event that marks a soon-to-be-married man's last hurrah with his friends before he ties the knot. This may seem like a fairly modern wedding tradition. But the social gathering of a bachelor party is actually an ancient celebration dating back to the Spartan age.
Plan the Stag with the Groom's Vision in Mind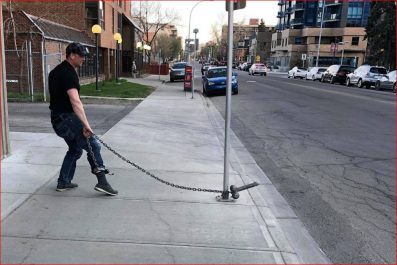 As a stag party planner, it's a good idea to talk to your friend about what he's comfortable with. You and the rest of the groomsmen may have your own ideas in mind. But the groom may have previously discussed what is – and isn't – allowed for the stag with his soon-to-be-bride.
The groom may want to take it easy for his stag. Maybe he'd rather spend a weekend golfing, road tripping, or going to a casino instead of going out on the town.
If he's decided to have a night out in Calgary, there's no shortage of ways you can plan a memorable time.
Either way, booking a limousine or party bus can add an extra special touch to this once in a lifetime event!
Plan Ahead

You don't want to wait until the last minute to plan this big night.
Calgary is one of the largest cities in Canada, and it's also a major traveling hub. This means hotels, restaurants, transport services, and special events can fill up fast – so you want to plan at least a few months ahead.
The Date & Invite List
Stag parties will typically take place a few weeks before the actual wedding. But it's not uncommon for some to take place months prior.
Make sure all the groomsmen will be able to attend. This can take a bit of coordinating – especially if some of them are busy with jobs or their families.
Talk to the groom about any additional friends or relatives he'll want to add to the guest list.
Lodging
Once you have a date set, make the necessary arrangements. Some of the groomsmen may have to travel from out of town to attend. The sooner they have a date, the better. You can also book a limo rental to handle the airport transfers for the out of town guests to add an extra special touch to this event!
You could rent a hotel, condo, or an Airbnb for a weekend. If you or someone in the party has a home in Calgary, you could host there.
Budget
Traditionally, the stag group treats the groom to his bachelor party or weekend getaway.
Before making set arrangements, talk to everyone on the invite list. Some guests may be comfortable fronting most of the bill. Others may have a tighter budget to work around.
Some of the groom's relatives may wish to contribute to his stag night/weekend. Talk to the best man or the groom's father about this.
If some of your ideas are on the expensive side, consider the alternatives. What you do and how much you spend aren't as important as bonding together with the guys.
Weather

Calgary's climate varies greatly throughout the year with summers hitting 30°C and winters dropping to -30°C.
Booking a limousine service in Calgary can help you relax for this event. No need to worry about the weather when you can be chauffeured between locations. There are many limo companies in Calgary to choose from, all with similar limo rates.
Perhaps you have a large group and would rather have a party bus service. Either way, look into limousine companies in Calgary to help with this special occasion.
Ideas for Bachelor Parties in Calgary
Is the groom always ready for an adventure at the drop of a hat? Is he a simple man who appreciates good food, good drinks, and good friends? Or maybe the groom needs a little help loosening up from time to time.
When it comes to bachelor party ideas in Calgary, there's something for every type of groom. Here's a breakdown of some of the best things you can do during a bachelor weekend in Calgary.
A Night out on the Beltline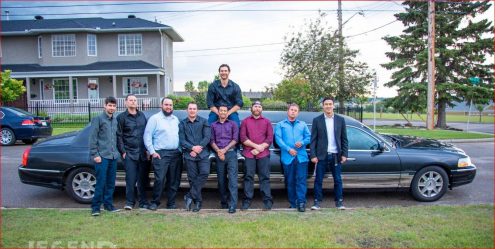 17th Avenue is the heart of Calgary's nightlife. This is the perfect spot to jump-start the stag weekend with dinner and drinks.
Don't forget to research the wide-ranging variety of restaurants along the Beltline. You can choose from all types of cuisines including steak, seafood, Italian, and so much more.
Be sure to book your restaurant reservation in advance so you don't have to endure long wait times for a table.
Calgary Flames Game
Do you and the boys love a good hockey game?
The National Hockey League 2019-2020 season will start up again come October and continue through to NHL playoffs. Instead of going to the bars, you can kick off your stag weekend at a Calgary Flames game.
Scotiabank Saddledome arena is near 17th Avenue. You can easily walk over to the Beltline after the game and continue the night. Or you could book a Hummer Limo to pick you up from the game and continue your party in style.
Afternoon Sightseeing

After a wild night, the group might want to take things easy the following day. Spend an afternoon exploring downtown Calgary and enjoying an array of activities.
You could visit the Calgary Tower or check out Stephen Avenue, catch a late lunch, happy hour, or even a music show.
Stampede Grounds
Every July, the Greatest Outdoor Show on Earth takes place in Calgary. If you're planning a summer stag, the Calgary Stampede is definitely an event to plan around.
Even if you don't want to attend the Calgary Stampede, there's a casino nearby, which is perfect if your buddies would like to try their hand at blackjack.
Ride the Night with the Right Set of Wheels
Standing by your buddy's side as he takes his wedding vows is an honour. You're a big part of an important day. And you can make his wedding all the more special by throwing him a memorable stag weekend.
Don't wait to plan the ultimate stag party in Calgary. You can make the experience even better with a hot set of wheels for your limo service. Check out Calgary limo prices or just book now to secure your ride for a stag weekend to remember!