Difference Between a Limousine and a Party Bus
by ampmlimo, on Jul 6, 2020 5:14:40 PM
People often wonder what is the difference between a limousine and a party bus. Which one should you rent? Only you will know the answer to that question, but we can sure try to help you decide.
Any special-event big or small in your life is made that much classier and more memorable when you get treated like the royalty you are. And if you don't want to feel like royalty, well, you can just feel great within the luxury and style of today's limousines or party buses.
How Many Are Going and What Are You Doing With Your Limousine or Party Bus?
The answer to this question could decide what you will need.
There are a wide variety of limousines and party bus sizes available. These luxury vehicles come in different styles, with different features and accessibility.
Most limousines can accommodate two to 20 passengers.
Party Buses can range from 10 – 30 passengers, on average.
What is it you are looking to do with your group? How long will you need service?
A lot of limousines and party buses are booked for birthday parties, stag or stagette, a special anniversary, quinceañeras, graduation ceremonies, or weddings. But there are many other things they can be used for, such as brewery tours, bar hopping, golf trips, airport transfers, corporate events and so much more! You can add a limousine or a party bus to anything!
The Classic Lincoln Stretch Limousine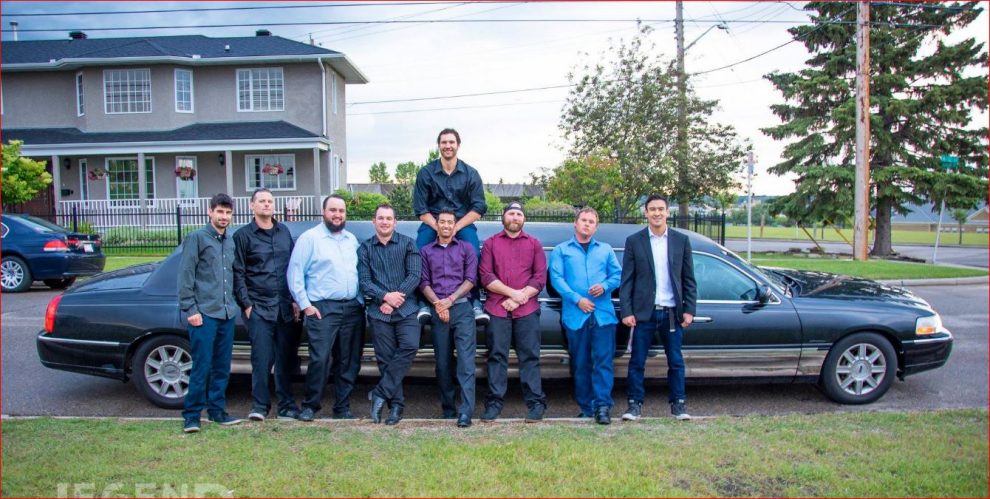 The standard stretch Limousine seats up to 10 passengers and is the limo most people are familiar with, as that style has been around for decades.
Whatever the event, travel like a celebrity with the classic Lincoln Stretch Limo.
The Lincoln stretch limousine is a mainstay for celebrating. Whether you are stopping and starting throughout an evening of celebrating, or just staying in the vehicle the entire time with your passengers, it is a warm, comfortable experience.
You do add luxury and class to whatever special event you are doing with a Lincoln stretch limousine.
With a beautiful leather interior and seating, a wet bar, great sound, and lighting, you will surely have a one-of-a-kind experience!
If your trip consists of stops and getting in and out many times, keep in mind the stretch limousine is a sedan styled vehicle. There is stooping involved in entry and exit.
Today's SUV and Truck Limousines Have Found their Place

SUV's and pickup trucks with seating for 10 to 20 passengers have undergone the transformation and represent a wonderful line of luxury limousines that have become a part of the landscape.
Offering more passengers and more headroom, and a higher-off-the-ground-ride so many are looking for in their personal vehicles today. You may even find the vehicle you have in your own garage has been turned into a stretch limousine.
Luxury SUVs and trucks are very versatile and some offer extra storage.
For trips like golf outings where you are bringing items, one of the stretch truck limousines would be ideal as they do have a covered pick-up box with the tailgate.

Being an SUV or truck does offer a wider and taller body style, giving more room for maneuverability settling in and during your ride. For entry and exit, you are stepping up into and down out of, the SUV and truck limousines.
Many people prefer this style of luxury transportation over the classic stretch limousine or even a party bus at times. No, you can't stand in the SUV or Truck limos, but the larger environment does make things a little comfier, allowing for feel-good vibes along the way!
What Type of SUV and Truck Limousines are Available
SUV's and trucks have been stretched and hand converted into luxury limousines. The full complement of the leather interior and seating, fantastic lighting, and the sound-systems are all state of the art, with great base, for maximum music effect (if that's what you're after). There is easy access to Bluetooth or a USB cable for your source of music.


You do put out a statement in some of these fabulous SUV and truck limos. The 16-passenger lifted PINK Dodge RAM, for instance, is very popular and the hit of the party every time. Even folks on the street take pictures of and with, this very unique, fancy limo ride.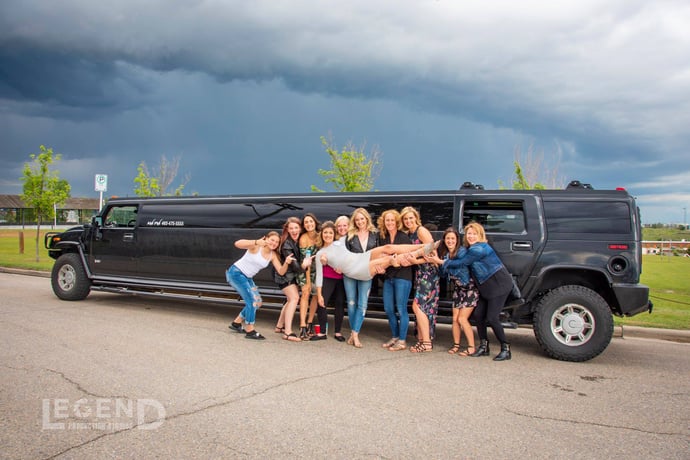 The Hummer Limo, as another example, is a love or hate relationship. But no matter, the Hummer Stretch Luxury Limousines are very popular rentals and almost menacing in their look. But 100% fun!
Of course, wet-bars and ice-boxes are a part of the SUV and truck stretch limousines.
Whether a black-tie corporate event or a jeans and t-shirt birthday celebration, the 10 to 20 passengers ride in class in newer SUV style Stretch Limousines.
Maybe You need a Party Bus
Seating for up to 30-passengers is available for your group in various Party Bus styles.
These may be called Party Buses, but many minor sporting teams, schools, youngster's birthdays, mass-moving corporate clients, are all taking advantage of the space offered in Party Buses.
Whenever you need a lot of people moved at the same time, a party bus (or limo bus) works great!
Sizes and Styles of Party Buses for Rent
Party Bus rentals have become a phenomenon over the past few years.
The idea of being shuttled in a luxury bus with great sound and lighting with the ability to maybe shake-a-little-dance as you go has been an over-the-moon success, all around the world.
16-passengers, with the Mercedes-Benz Sprinter Mini Party Bus
The class and quality of Mercedes-Benz side-door entrance Sprinter has been matched with rich leather interior and seating, dance floor, truly unique lights and lighting from every direction, and a sound system that is roaring and ready for whatever you bring on board.
Of course, a wet-bar with an ice-box and glasses and napkins are standard if needed (alcohol or non).
24 and 30-passenger Limo/Party Bus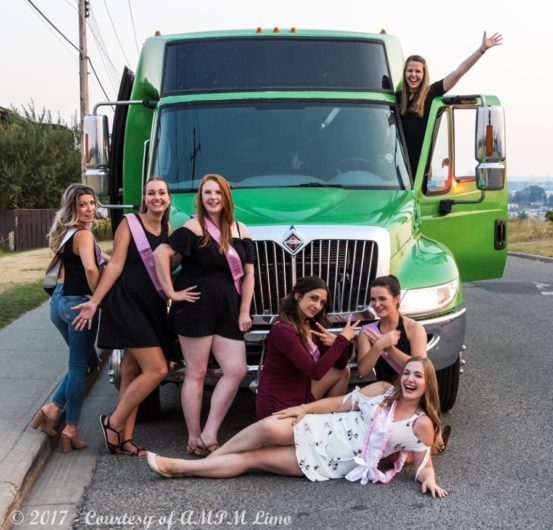 When the whole gang wants to get away together, these transformed heavy-duty buses are the only answer for so many events.
If you have never been inside of a large party bus, get ready because they are ready.
Most buses are individual light shows once inside, with custom LED lighting. Wrap-around leather seating throughout with 2 wet-bars in most with a state-of-the-art music system as big as the bus, and controllable by you!
Easy access getting in and out with lots of tinted windows makes this method of travel smooth, safe, and fun!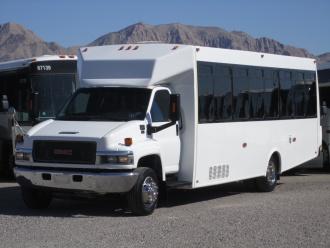 24 passenger Shuttle Bus (non-luxury, but new)
When you are looking for straight-up transportation services with not a whole lot of frills, but plenty of seats, the 24-passenger Shuttle Bus has all seats facing forward. There are no fancy lights or sound systems, but still a comfortable ride for tours or basic group transportation.
Liquor Consumption in Limousine and Party Buses
Liquor is allowed in a limousine or party bus in Alberta Canada, providing no-one is under the legal age and the company you are renting with has the proper licensing. However, rules are different in other provinces/states, so please check rules regarding liquor consumption within your area.
If you are having liquor as part of your celebration, please do inform the limo/party bus company ahead of time.
What's it Going To Cost for a Party Bus or Limousine?
Instead of heading to a certain location, many people are using the party bus as the location.
You can save huge by having your party on the bus, by not having to pay cover fees at bars or clubs, or pay for multiple cabs or Ubers to get you to where you're going.
When there is cost-sharing with everyone who is coming along, it is remarkable how inexpensive an evening or day can be. If you have close to maximum capacity, costs can be as low as $10 each per hour! With such affordable pricing, traveling in a luxury limo or party bus with a professional chauffeured driver is available to everyone!
Make your special occasion a party on wheels with professional limousine service and have a great time with family and friends. The longer time you rent a party bus or limousine, the more affordable the rates!
Some companies allow one-hour rentals, others have a minimum number of hours required or limo packages that you can book. Pricing varies from company to company, so when looking for limousines or party buses, try to get at least two or three quotes. When price shopping with various transportation companies, make sure to consider the age of the actual vehicle you will be renting as some companies have very old models that they can rent for less. And if you are able to go view the limousine or party bus in person, that would be ideal.
Here is a general idea of costs for party service:
*30 passenger Party Bus: $250 to $400 per hour
*24 passenger Party Bus: $225 to $350 per hour
*16 passenger Mini Party Bus $175 to $250 per hour
Here is a general idea of costs for limousine service in Calgary:
*20 passenger SUV Stretch Limousine Hummer or Suburban: $189 to $225 per hour
*16 passenger Truck Stretch Limousines Dodge RAM or Chevrolet: $149 to $200 per hour
*14 passenger SUV Stretch Limousine Ford Expedition: $135 to $175 per hour
*10 passenger Lincoln Stretch Limousine: $115 to $150 per hour