Can you drink on a limo or Party Bus in Alberta
by ampmlimo, on Oct 16, 2020 11:21:14 AM
Many people hire a party bus or limousine for more than just transport services. They are often used for special events and a great time such as weddings, graduations, stag/stagettes, birthday parties, anniversaries and pub crawls. Often times the plan is to be consuming alcoholic beverages on the party bus while your limo driver is your designated driver! If that's what you're looking for, there a few things you need to know!
Do you need a liquor license for a party bus
In Alberta, it is legal to consume alcohol on the party bus if everyone on board is of legal age and that there is an Alberta liquor license present. Many party bus operators come fully licensed.
Those who are not licensed may require the customer to purchase the liquor licences themselves. Make sure to check with your Party bus company when making your reservation. Also, remember that no open liquor can leave the bus at the end of your experience.
If you plan to drink alcohol on your special occasion, this is the best, safest, and probably the most fun way to go!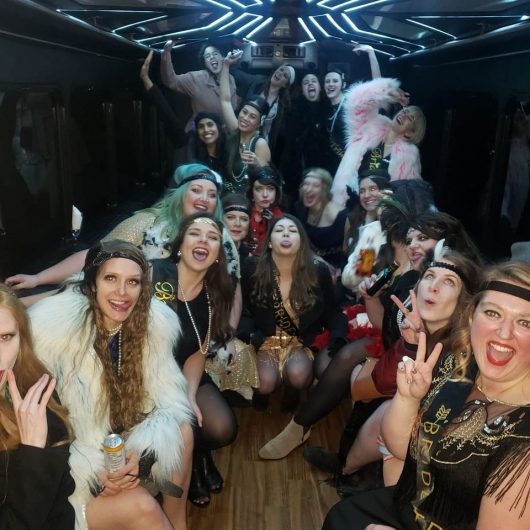 Drinking Games to Play on a Party Buses

⠀
While you are consuming alcohol on your trip, you may also want to plan some drinking games to play on your party bus. Games can help break the ice for those who don't know each other very well, and they can add a ton of fun and some great laughs to all groups!
Truth Or Dare is a popular game. The game simple, ask the person to your left if they would like a "truth" or a "dare". If they pick "truth" you can ask them any questions you would like, and they must answer truthfully. If they chose "dare" you can dare them to do anything, and they must do it.
The drinking twist is if someone refuses to do a dare or to answer a truth question, then they must have a drink!
Never Have I Ever is also a popular game. Not only does it help you get to know a little more about your group, but it can also be made into a drinking game. Someone makes a statement such as "never have I ever been to a casino". All who have done this would take a drink.
Go around the circle and have everyone take turns in making statements. You may be surprised by what you learn about each other!
Charades is a welcome game both with and without alcohol. Split your group into two teams and have one person from each team act out something for their teammates to guess. Set a timer and if the group doesn't guess what it is before time is up, the entire group must take a drink!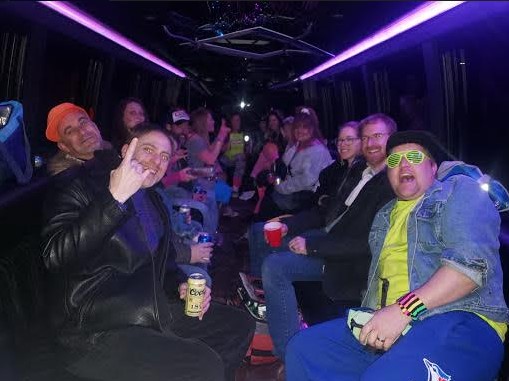 How Much to Tip Your Party Bus Driver
Some companies include a base gratuity of 15 – 20%. Most party goers will still tip their limo driver in cash as well, especially if the service was exceptional. Keep in mind a one-hour limo trip is very different from a multiple hour Party Bus ride and bar hopping all over the city.
For companies that do not include gratuity, you can get your entire group to pitch in to tip your driver. The standard amount in the limo or party bus service industry is typically 20%.
How Many Seats Are in a Party Bus⠀
There are many different sizes and styles of party buses available. Typically, the seating is the same as it is in a stretch limousine, with seats all around the sides so that everyone can face each other. The difference between limousine service and party bus service is that the bus gives you the ability to stand.
There is a dancefloor in the middle of the seats so that everyone can get up and show off their best moves. Mini party buses typically seat 10 – 16 passengers, the next size up seats 16 – 24 passengers and the larger party buses seat a maximum of 30 passengers. Check with your service provider to ensure that your group size does not exceed the legal maximum of your rental.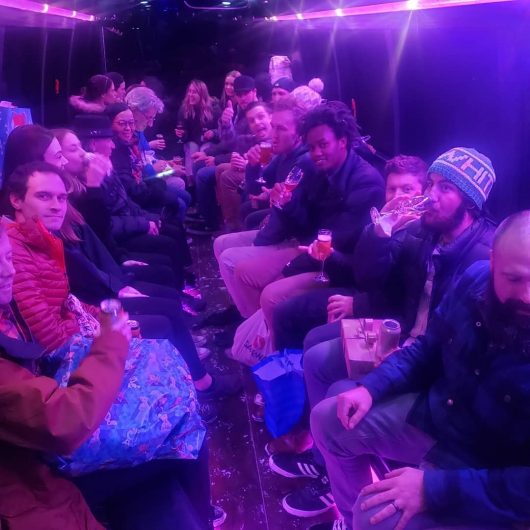 If you are planning to be drinking on a party bus, most are equipped with built-in ice buckets and most services provide you with cups and ice.⠀
Book Confidently with AM PM Limo
When you are ready to book your party bus or limo rental, Contact AM PM Limo for your fast, no-obligation price quote online
Our LIVE reservation specialists are standing by 24/7 to assist you with all your limo or party bus needs.
We provide the newest, nicest, world-class party bus rentals all over Alberta with all the preferred amenities for your group. Check out our super-popular one-of-a-kind GODZILLA party bus!)
If you are looking for a Party Bus or limo services in Alberta, AM PM limo have many locations to service you.
You can contact us by phone or e-mail info@ampmlimo.ca
Calgary, call 403-475-5555
Edmonton, call 780-666-2552
Lethbridge, call 587-800-3448
We look forward to being of service to you!
AM PM Limousine & Party Bus services all of Alberta and is fully licensed with the AGLC. Grab your best pals, a few drinks, and head on out for a night of fun and games.