Get The Best High River Limousine Rental
by ampmlimo, on Oct 19, 2020 10:26:52 AM
Making luxury transportation available for all points in the Municipal District of Foothills County, AM PM Limousine & Party Bus is proud of the service we have delivered and continue to deliver to the historic town of High River. When you want to get the best High River limousine rental, AM PM Limo is your willing partner.⠀
Limousine Rental Pricing for High River
AM PM Limousine & Party Bus is headquartered in Calgary, with offices open in Edmonton and Lethbridge. AM PM is an Alberta company, using all things Alberta to get the job done. ⠀
There is a cost to a limousine making the drive to outlying areas, therefore you will find prices a little higher than base-city prices.
AM PM Guarantees the lowest prices for the same limousine service. ⠀
High River limousine rental costs range from $15 to $30 per person/per hour. ⠀
Prices do vary with the size of the limousine, how many guests, and how long you need the rental. The longer you book for, the lower the hourly cost. ⠀
When you do a group event, once you consider the individual shared cost of transportation services, with everyone safe and together, a limo rental offers great value. ⠀
AM PM will work with you and your budget.
Limo Rentals available in High River with AM PM
10-passenger Lincoln Stretch Limo (sedan)⠀

14-Passenger Ford Expedition (SUV)⠀

16-Passenger Dodge RAM Stretch (Pick-up/SUV – extra storage)⠀

16-Passenger PINK Dodge RAM Stretch (Pick-up/SUV – extra storage)⠀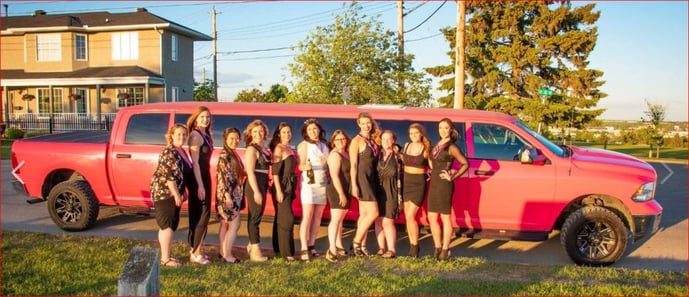 20-Passenger Hummer Stretch (SUV)⠀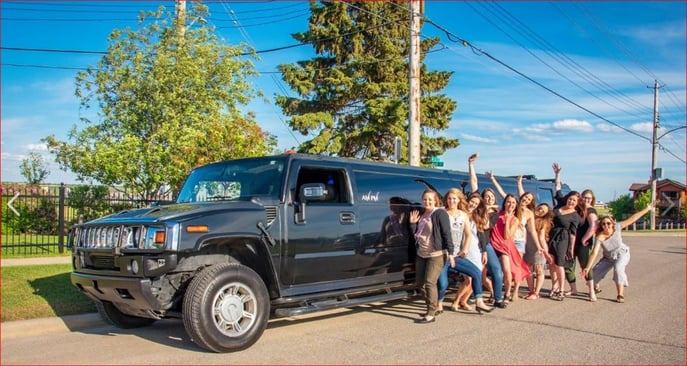 20-Passenger Suburban (SUV)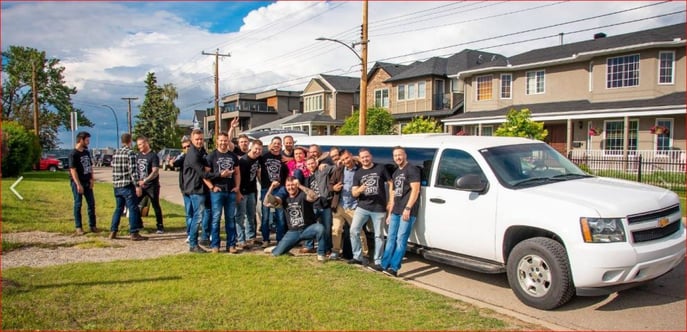 Alcohol Is Legal with High River Limo Rentals⠀
AM PM Limo is a licensed company and providing all guests have identification proving legal age, alcohol is permitted. ⠀
You can have your requested alcohol or/and soft-drinks chilling on ice at arrival to your front door. ⠀
All High River rentals come with complimentary ice and ice-containers, glasses or cups, napkins, and every limousine has at least one wet-bar.
High River Limo Rentals for Any Occasion⠀
Limo service for wedding parties is being looked upon as a normal process for more and more weddings. Whether the wedding is on acreage, someone's house, a barn, church, or the Rocky Mountains, AM PM can supply the very best limousines and the very best service.
Getting out of beautiful High River every now and again to celebrate with friends and family, or just because.
Maybe a life-moment such as a birthday, anniversary, or graduation needs that special touch of a limousine to give importance to the occasion. ⠀
Pub-crawls, stags or stagettes, night on the town, movie or dinner (or movie and dinner) are just some of the reasons for a limo or party bus rental.
AM PM Limousine & Party Bus have special pricing-packages for weddings and graduations. Any special event, no matter how big or how small, is worth renting luxury transportation. Sit back and relax and leave the driving to the professionals.
Luxury Throughout Every Size and Style with AM PM Limousine⠀
Luxurious leather interiors, fabulous interior LED or Laser lighting, and sound systems that are ready for whatever you bring. The music connection from your device is easily adaptable. ⠀
The Lincoln Stretch Limousine is the only sedan limo available. Most limousine designs are focused on a more all-around room in the SUV-style limousines that dominate the market. ⠀
The beautiful surroundings of the standard limousine are simply taken to a larger degree inside the SUV and Truck limos. Hard-wood flooring wrapped in a leather interior with even more subwoofer sound inside the larger limousines.
Get the Best High River Limousine Rental For All Occasions
A truly Alberta-rural lifestyle is what High River is all about. All the amenities are here for the continued growth of business and population. As is the case with most rural locations in Alberta, High River is another 'destination location' for those looking to escape the rat-race. ⠀
Visiting High River is a 40-minute jaunt down Highway 2 from Calgary.
There is plenty to do and see in High River with local art, entertainment, history, and shopping. High River should be high on your list.