Graduation Party Bus Rentals – Celebrate in Style!
by ampmlimo, on Nov 27, 2019 12:39:44 PM
Whether you're graduating from high school or college, you've done your time; all those years of hard work, studying and exams are about to pay off for you. Now is the time time to collect the reward for your efforts, and your graduation party should be no less spectacular than your accomplishments.
Consider this: once you've graduated, the group of classmates and friends with whom you've shared these years will go forward with new lives; some will move away, some will simply become too busy to keep in touch.
Your graduation party may be the very last time your complete group of friends will spend together, and you deserve to live it up together one more time… with a celebration that you'll all remember for a lifetime.
Your party may be at a special venue or take place at several different locations. Regardless of the where, you'll still need to consider the how… and that's where a graduation party bus comes in.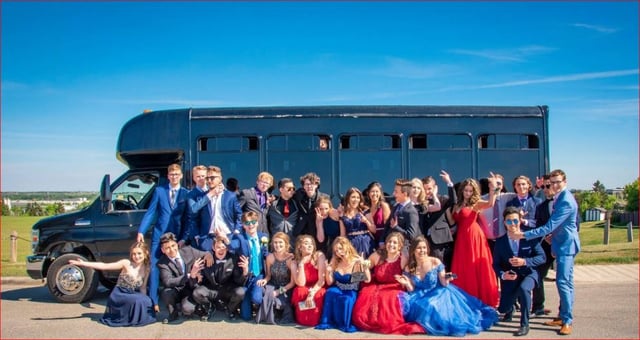 When you rent a graduation party bus, you and your fellow grads get the first-rate VIP treatment you deserve. And if you want to be remembered long after the event, let your fellow classmates see you roll up in a world-class ride for the ceremony or subsequent festivities… you'll be the talk of the school, (especially if you rent a super-unique ride like the green Godzilla party bus!)
Here are some of the other benefits of renting a party bus for your once-in-a-lifetime occasion:
Everyone in your group stays together throughout the celebrations. Remember that time spent driving and parking in separate private vehicles is time you won't be spending with your group. Not to mention that everyone is safer when traveling in larger numbers. Often there is an after-grad party as well. Booking a party bus to pick up the group afterward is a great way to ensure that everyone gets home safely.
Ample space in the party bus interior allows for socializing, dancing, and partying together. If you need storage for your graduation gown (especially for gown rentals) or other personal items, you're totally covered in a vehicle of this size.
The party doesn't have to start at the nightclub when you're already traveling in one on wheels! With a state-of-the-art sound system, custom lighting effects, and darkly tinted windows for privacy, your ride can be an even bigger blast than your destination!
Graduation party bus rentals are very affordable when all passengers share the cost… so there's no reason NOT to enjoy this special occasion in style!
How much does it cost to rent a graduation party bus?
The price of a graduation party bus is generally within the range of $200 to $399 per hour, (and even less out of pocket when riders split the fare.) The size and type of vehicle, date of travel, and any added amenities will all figure into the total cost calculation.
If you rent from a transportation provider who offers graduation packages, the limo bus rental can be surprisingly affordable.
How to Rent a Party Bus in Alberta
Graduates throughout the region, (including Calgary, Lethbridge, Edmonton, Red Deer, Banff, Lake Louise, and Canmore,) have discovered how easy AND affordable it is to rent a party bus for graduation from AM PM… and they've had the time of their lives during the ride.
(You don't have to take our word for it; you can tell by our rave reviews on google and Facebook!)
If you need a graduation party bus, we make your reservation EASY. Our LIVE operators are ready to assist with your reservation at any time of day or night, and we'll work with your budget to customize a package that perfectly suits your needs.
If you're not yet ready to book the ride, you can start by getting an idea of the cost when you request a price quote online.
When it's time to reserve your party bus, give us a call at 403.475.5555 and we'll make sure your graduation is the most memorable event imaginable!