Hire a Calgary Party Bus for The Holidays
by ampmlimo, on Dec 10, 2019 9:00:24 PM
The holiday season is upon us… have you made your plans? Like so many holidays before this, you may have your mind set on doing something different this year; dinners are nice, movies are great, parties can be a real blast… but you've done the same-old/same-old, and THIS is the year you'll escape the norm and do something more spectacular.
Or will you?
How many times have you had these same holiday aspirations, but with all the busy-ness of work, friends & family and your many responsibilities, somehow your holiday dreams just fizzle out, year after predictable year?
Not THIS year. If you've run out of unique ideas for celebrating the holiday season, we have the perfect suggestion for you…
Hire a Calgary Party Bus!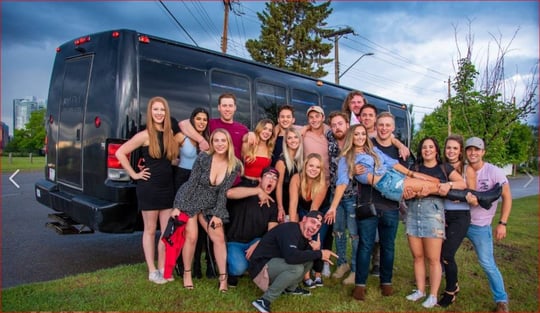 Has this idea ever crossed your mind before? If not, we're happy to put 'a bug in your ear' because this is not only a unique, out-of-the-ordinary holiday idea, it's also a total blast… and it's affordable!
Think about this: holiday parties happen every year, and of course they're a festive, fun way to celebrate. BUT… take that party on the road and you have a whole new level of memorable…
Dancing with your travel companions while spectacular scenery or dazzling city lights provide an ever-changing backdrop to your celebration.
Enjoying favorite cocktails and other festive concoctions without need to worry about who will be driving or how everyone will get home after the party.
Being the talk of the town when you roll up in a luxury holiday ride and all of your jovial, delighted passengers come spilling out of the vehicle, to the envy of all those who instead decided upon the same old holiday activities.
There are so many reasons to do something different this year… so what are you waiting for?
"But Can I Afford to Rent a Party Bus?"
The answer is a resounding "YES!"
While a party bus rental may sound like an out-of-reach luxury if you live on an already-tight budget, consider this: if everyone in your group pitches in to split the cost of the fare, each person may pay as little as $10 each out of pocket! That's less than what most people spend on a single gift; very easy on the pocketbook.
Did you ever imagine such an extravagant, memorable holiday experience could be so well within reach? There's really nothing stopping you and your friends/family from having a party that none of you will ever forget.
So when the holidays are over this year, will you sigh and regret that once again you 'chickened out' of an unforgettable party experience, or will you be too busy sharing photos and stories from one of the most memorable party of your life?
We'd call this a no-brainer… rent a party bus to get started on the most awesome celebration your group may have for many years to come!
How To Rent a Holiday Party Bus in Calgary
At AM PM Limo, we make booking a party bus a breeze. Our LIVE operators are standing by 24/7 to assist with your reservation, and we'll work with your budget to customize a package that perfectly suits your individual group needs.
If you'd like to get started with a price quote, you can request it here.
When you're ready to book your party bus in Calgary or anywhere in Alberta, (or if you have questions,) you can reach us any time of day or night by calling 1.403.475.5555.
Let us help you make THIS year your most memorable holiday season ever!