How Much Does It Cost to Rent a Party Bus in Calgary?
by ampmlimo, on Oct 23, 2019 12:44:49 PM
AM PM party bus rental prices range from $175 to $289 per hour. This depends upon the size of the vehicle and the number of passengers.
And when the cost is shared between all passengers, this extravagant ride can be reserved for as low as $10/hour per rider!
Taking the whole crew out on the town, or away to your special event in a Calgary party bus is a surprisingly affordable luxury.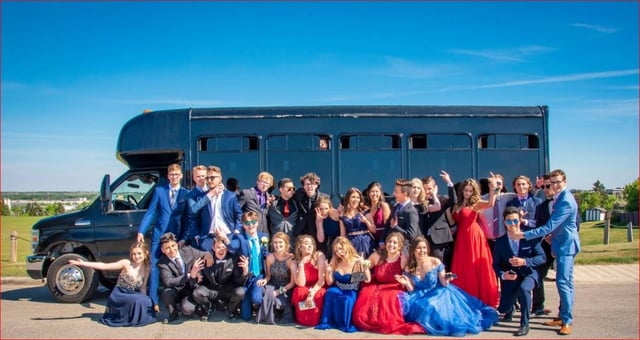 A Party Bus is Cost-Effective for Special Occasions
There are myriad occasions for which Calgary area travellers find that reserving a party bus makes financial sense. Here are a few of the typical reasons party buses are hugely popular in the region:
Picture-Perfect Weddings
A party bus is a widely preferred option for wedding parties. The ample interior space is ideal for last-minute preparations on the way to your nuptials. This is because it offers plenty of room for large bridal/bridesmaid dresses and personal belongings.
There is room inside to freely move about and socialize in anticipation of the big event. Additionally, boarding and exiting the vehicle is easier than with a limousine. As a result, riders can enter and exit without fear of tripping over extravagant wedding attire.
By renting a party bus and keeping everyone in the party together, there is less likelihood of delay and confusion. Furthermore, the cost of a single party bus versus multiple smaller vehicles is substantially lower.
Unforgettable Graduations
There's nothing like a party bus for graduations! Grads can travel together safely to all the graduation festivities. Plus, they'll have an absolute BLAST on this extravagant ride between destinations. There's plenty of room for dancing and socializing during the trip.
Moreover, a party bus represents a huge cost saving over separate vehicle rentals. Not to mention that it eliminates the excess time and planning associated with reserving multiple rides.
Calgary Nights on the Town
The party bus rental is also wildly popular with groups who want to live it up and enjoy the city's nightlife in style. The party kicks off well before you reach your destination. This is because of the dazzling disco lighting effects and state-of-the-art sound system.
Furthermore, alcoholic beverages permitted for adults while aboard the bus. One of the reasons the party bus is most favoured with Calgary night owls is the safety factor. Your entire group can live it up and enjoy their favourite cocktails.
No one will worry about who will be driving everyone home at the end of the night. Additionally, a party bus rental saves money for fun-loving riders in myriad ways — consider the savings of parking fees alone! Everyone in your party is safer and more secure, in addition to saving gasoline and parking hassles. Not to mention the risk of accidents after having a 'few too many'.
Magnificent Scenic Tours
If you have never travelled by party bus from Calgary to Banff to take in spectacular views of the Rocky Mountain foothills, you are missing out. There's nothing like a grand tour of the area's glorious countryside from the comfort of a luxurious, spacious ride.
Especially in the company of your favourite group of friends and family! A well-deserved getaway tour of Calgary's beautiful natural scenery is not to be missed. Put this one on your bucket list!
A party bus is a cost-effective option for this type of travel, especially when all riders share the cost of the rental. The cost difference between reserving one large party bus instead of several smaller rental vehicles means substantial savings. Furthermore, the view from the party bus is magnificent!
When you're gathering a crowd for any special excursion, a party bus rental is for you. This truly affordable option is certain to make your journey more memorable than the destination.

How Can I Rent a Party Bus in Calgary?
It's easy!
At AM PM Limo, we make booking a party bus a breeze. This is because our LIVE operators are standing by 24/7 to assist with your reservation. Above all, we'll work with your budget to customize a package that perfectly suits your individual group's needs.
If you'd like to get started with a price quote, you can request it here.
Ready to book your party bus in Calgary or anywhere in Alberta? You can reach us any time of day or night. Just call
1.403.475.5555

, and your group will be living it up in style in no time!