How to Make a Birthday Special Without A Party
by ampmlimo, on Nov 23, 2019 6:04:25 PM
You or someone you love is having birthday, but you don't have time or money to go through the hassles of throwing a party with decorations, food, invitations, and all the other preparations. How about taking your party on the road instead?
An excellent way to make a birthday as memorable as it can be is to rent a limo. Whether you're in Calgary, Lethbridge, Edmonton or any other Alberta city, there's nothing that says "Happy Birthday" like a luxury limo ride through the city or surrounding countryside.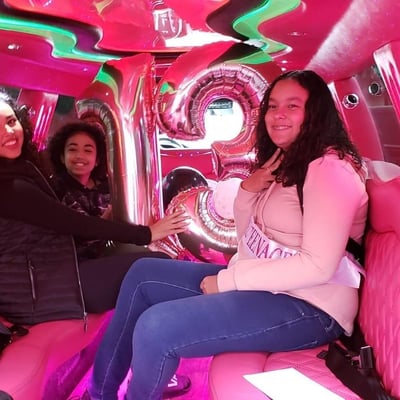 Isn't It Expensive to Rent a Birthday Limo?
Even if you don't have a lot of money to spend, a limo is a great option because everyone in the group can split the costs, making it super-cheap for all passengers. For example, if the cost of renting a 10-passenger limo is $150 per hour, and all riders chip in to cover the fare, each person would pay only $15 for the hour!
This is a great way to gift a sweetheart, friend or family member on their special day, with very little out-of-pocket cost to everyone. And if you're the one celebrating your birthday, invite your group of friends and family and ask them to pitch in… at such a low cost, they're not likely to refuse!
Why Rent a Calgary Limo for Birthdays?
The obvious answer is that it's super-luxurious… anyone celebrating a birthday in a Calgary limo will feel like a celebrity for their special day.
Here are a few more reasons that renting a birthday limo will be a big hit with your entire group:
It's FUN! When you rent a limo in Calgary, you can enjoy a one-of-a-kind 'mobile party' … riders can listen to their own music, enjoy alcoholic beverages, socialize and enjoy the ever-changing scenery while someone else handles the driving duties.
It's EASY! When you rent a birthday limo, you have nothing to prepare… no decorating, no cooking or baking, no clean-up after the party has ended. All the amenities you want to enjoy can be made available with your rental, and ready to roll when you are.
It's Unique! Sure, you can give someone birthday flowers, or take them to dinner… but imagine their surprise and delight when a world-class luxury limousine (such as a pink limo) pulls up to the curb to take them for an unforgettable birthday ride! Of course, you can still treat them to a birthday dinner… in an elegant stretch limousine!
It's Affordable! Remember, when all your passengers split the cost, the price for a luxury birthday limo ride is a cheap investment for everyone!
Help Me Celebrate a Special Birthday Without Throwing a Party!
You've come to the right place!
At AM PM Limo, we make booking a birthday limo in Calgary a breeze. Our LIVE operators are standing by 24/7 to assist with your reservation, and we offer customized packages to suit any budget.
And did we mention our exclusive Price Match Guarantee??? If you find any limo rental in Alberta at a lower cost for the same vehicle, we'll not only match our competitor's price… we'll beat it by 10%!
With such low rates, a limo rental is the perfect gift idea for that special someone… or to treat yourself! To find out how affordable a chauffeured limousine can be, get started with a no-obligation price quote. You can request it right here online.
When you're ready to book your birthday limo in Calgary or anywhere in Alberta, (or if you have questions,) you can reach us any time of day or night by calling 1.403.475.5555.
We'll make your reservation fast and hassle-free, and you'll be celebrating that special birthday in style in no time!