Is there a shuttle bus from Calgary Airport to Banff?
by ampmlimo, on Feb 12, 2020 7:35:25 PM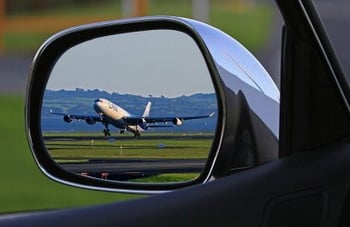 The short answer is yes; there are a couple of options when considering a shuttle bus from Calgary Airport to Banff … but rider beware. Read on to find out why…
Standard "cheap" shuttle buses run on a fixed schedule, 8am to midnight, for example. So, what happens when your flight is delayed, and doesn't arrive until after midnight? You're stuck trying to find last-minute transportation to Banff, when all you want is to be on the road. (And once you see the prices charged for on-the-spot transportation service, you'll realize that 'cheap' wasn't the bargain it was cracked up to be!)
The best shuttle bus from Calgary Airport to Banff is one that runs according to your schedule; ensuring you're not waiting for ground transportation after exiting the plane. Reputable and accommodating shuttle bus rental companies will be flexible with your reservation when your flight is early or delayed. That way, your ride is waiting when you need it.
Another caveat of taking a standard shuttle bus from Calgary to Banff is that you'll be sharing your ride with other travelers, (i.e. strangers.) While you may not mind riding in close quarters with people you've never met before, the true downside is the delays.
After a long flight, airport security, baggage claim, and other flight-related activities, most travelers just want to reach their destination. Nobody wants to endure additional delays and travel hassles. Private shuttle bus services eliminate these extra inconveniences and save you time by providing non-stop service from Calgary to Banff. Luckily for you, no one rides with you except the passengers you invite.
Finally, in case you're not familiar with this region, the area is subject to severe and unpredictable weather patterns. Even the most experienced drivers may have difficulty navigating in such conditions. It is important for you and everyone in your party, that your driver is specially trained for driving on these roads, in all climates.
Why hire a private shuttle bus?
Standard shuttle services often have a high turn-over rate for drivers. They can't always guarantee spotless driver safety records or background histories. Therefore, it is well worth a few extra bucks to ensure your safety.
Private shuttle bus rental companies are not only more deeply committed to thorough background checks and driver training, they're also more likely to maintain their fleet of vehicles more meticulously, for vehicle cleanliness and safety maintenance. When it comes to the utmost security for your group, private service is emphatically recommended over standard shuttles.
How much does it cost to rent a shuttle bus from Calgary Airport to Banff?
The price for private shuttle services from Calgary Airport to Banff will vary from one transportation provider to the next. AM PM Limo has been providing chauffeured shuttle bus rentals between Calgary and Banff since 2010. Our rates are representative of industry standards.
Our shuttle bus pricing is as follows:
| | | |
| --- | --- | --- |
| | Spacious interior, luggage space and ease of boarding/exiting the vehicle make this the ideal transportation for 10-13 passengers. | $575 |
| | Ample space for up to 24 passengers to ride in comfort, with extra luggage room at the rear and in overhead bins. | $799 |
How to book a shuttle bus from Calgary Airport to Banff
AM PM provides first-rate yet affordable transportation between Calgary and Banff, as well as any other destination throughout Alberta.
Our courteous and knowledgeable reservation specialists are happy to answer any questions you may have, at any time. We invite you to call us 24/7 with any questions you may have, or to reserve your private shuttle bus from Calgary Airport to Banff: 403.475.5555
We look forward to being of service to you!
If you are continuing on to Vancouver, we have a great affiliate for limousines & party buses with – Boss Limousine Service Ltd They service the greater Vancouver area and into the Pacific Northwest.