Living it Up on New Year's Eve… Who's Doing the Driving?
by ampmlimo, on Dec 19, 2019 7:34:08 PM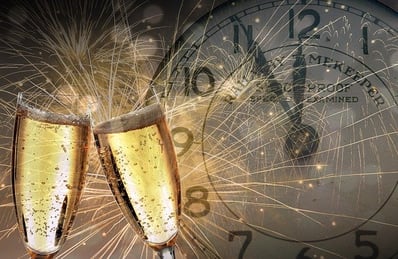 Around the globe, people of all ages celebrate New Year's Eve in numerous ways. Many turn out for dazzling fireworks displays. Others hitting exciting hot-spots in the city, attending festive parties with friends, family and work colleagues.
One common factor among celebrants, is they all have to get from here to there. Unless you live next door to the fireworks, or just down the block from the hottest nightclub in town; you're likely going to need a ride to get you to your New Year's Eve bash!
A New Year's Eve limo can solve this problem for you! Grab your sparkling wine and have a dance party in a limo bus on your way to the big ball drop. Or sip champagne in a luxury limousine on your way to the fireworks!
New Year's Eve Driving Issues
Heavy traffic – long lines and traffic snarls can delay your planned recreation and put a damper on an otherwise jubilant celebration.
Road closures – when fireworks displays and other city-sponsored celebrations are underway, certain roadways are closed and inaccessible.
Harsh climate – Snow, sleet and black ice can all contribute to hazardous driving conditions. Only experienced drivers who are familiar with the navigation of such perils should be on the road on nights like these.
Additionally, even the most experienced drivers may enjoy ringing in the new year with a sparkling glass of champagne or cocktail. So, who gets behind the wheel when everyone in your party plans to partake in alcoholic delights?
Do you draw straws to see who gets stuck being the designated driver? If so, someone with a short straw is going to be disappointed that they can't enjoy a drink on this night.
Here's another idea: Hire someone else to do the driving. Consider how much MORE fun your entire group can have when you rent a stretch limo or party bus… and nobody gets stuck fighting traffic or staying sober. Not to mention that when you hire your professional driver, you can pop the champagne while you're still on the road!
Furthermore, it's very affordable to rent chauffeured limo services, party bus or SUV in Alberta. When everyone in your group pitches in for the fare, the cost can be as low as $10 per person; depending on which vehicle you rent and how many passengers are in your party. When you consider the cost of gasoline and parking fees, you may actually SAVE money by hiring chauffeur service… it's a true win-win!
Wouldn't you prefer to live it up for the night and not have to worry about traffic and road hazards? Renting a limousine service will not only ensure your group's safety and security. Additionally, it will also make your night FEEL more celebrational as you ride in style and free of stress.
Let Us Handle the Driving for Your New Year's Celebrations
At AM PM Limo, we are a family-owned business that appreciates the joys of the season, and we want to help make your time with family and friends as extraordinary as it can be. Let us take you to all the city's spectacular new year's eve parties and festivities in style AND safety.
We are proud to provide only the most experienced chauffeurs with spotless driving records. Our drivers are intimately familiar with Alberta destinations, roadways, traffic patterns and road closures; and all are specifically trained for proper handling of road hazards, weather-related or otherwise.
When you rent a limo or party bus from AM PM, you're in the safest possible hands; we have your back and we're looking out for your security and well-being at all times. A professional chauffeured transportation service is the way to go for December 31 or any day of the year!
Our Customer Service Agents are available 24 hours a day, 7 days a week; to make your booking simple, fast and affordable. When you're ready to reserve your ride, give us a call any time of day or night at 403-475-5555.
If you're not quite ready to book your transportation but want to know how much it costs to rent a limo or party bus in Alberta, (including Calgary, Edmonton, Lethbridge, Red Deer, Banff & Canmore,) start by requesting an easy, no-obligation price quote online.
But don't wait too long to reserve your vehicle… there's a high demand for hired transportation on New Year's Eve, and we want to make sure there's a ride available for YOU!
Not sure what to book? Check out our blog on if you should Rent a Limousine or a Party Bus for more info!