Take a Holiday Lights Tour… in a Limo!
by ampmlimo, on Dec 15, 2019 3:32:11 PM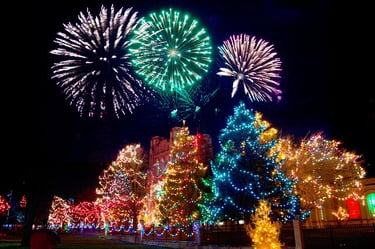 'Tis the season… for festive parties, plentiful food, and drinks, merry music as well as family gatherings. And at this time of year, residents all around Alberta are showing off their spirit of the season with extravagant holiday lights tours and displays.
Throughout the region, individual houses, as well as entire neighborhoods, are transformed into a magical wonderland; to the delight of children and adults everywhere. The sight of sparkling, twinkling, colorful holiday lights is guaranteed to evoke feelings of warmth, joy, and a renewed sense of wonder; in even the grinchiest among us.
If you're reading this, there's a good chance you've taken part in the seasonal ritual of touring many of the beautiful holiday displays available to see in Alberta. BUT… have you done it in a limo?
Sure, driving the family around while everyone in the car enjoys the beautiful lights can be fun, but you're the one doing the driving, how much of the fun do you really get to enjoy? You know how it goes; you're watching for traffic and monitoring the activities of children in the back seat while trying to steal a peek at the festive displays in between… this can put a damper on the holiday spirit for anyone.
The solution: rent a limo to tour the holiday lights!
Sound like a bit much? Not when you deserve public holiday tour perfection. Consider this: not only will renting a limo ensure that YOU get to revel in the seasonal delights along with your loved ones; it also doubles as a unique and memorable gift for all. Times like these make joyful memories to last a lifetime… a ride in a luxury limousine and complete immersion in the sights and sounds of this glorious season will not soon be forgotten — and nothing can replace moments such as these.
If you're looking for something new to do during the holidays this year, touring the holiday lights in a limo is the perfect answer. There are many dazzling public light displays to enjoy in Alberta; For example, here are a few of the many festive exhibitions to be found in Calgary, Edmonton, Lethbridge, and beyond…
Rent a Limo to for an unforgettable Holiday Lights Tour
At AM PM Limo, we are a family-owned business that appreciates the joy of the season; and we want to help make your time with family and friends as extraordinary as it can be. Let us show you the most area's most spectacular light displays and treat your entire group to luxurious pampering in the process.
Whether you are looking for a Lethbridge Christmas lights tour, in the city of Calgary or are looking to go view Christmas lights in Edmonton, AM PM Limo will be there for you!
We are available 24 hours a day, 7 days a week to make your reservation simple, fast and affordable. If you want to know how much it costs to rent a holiday limo, start by requesting an easy, no-obligation price quote online.
When you're ready to reserve your ride, give us a call any time of day or night at 1.403.475.5555. But don't wait… this holiday idea has become more and more popular over the years, and we want to make sure there's a holiday limo available for YOU!