The Best Luxury Limousine Rentals in Cochrane
by ampmlimo, on Oct 5, 2020 10:22:04 AM
You want guaranteed service, a clean luxurious interior, subtle lighting, great sound, along with a professional chauffeur who knows their place. AM PM Limousine & Party Bus has the best luxury limousine rentals in Cochrane, and we've been proving it for over a decade.
Whether it's for a birthday party, airport transfer, bachelor/bachelorette party, or any special event, when it's time to get on the road without any worries, limousine rental is the answer.

Prices for Cochrane Limo Rental Service
AM PM Limousine & Party Bus GUARANTEES THE LOWEST PRICE on the same service.
We understand your need to save your money, we're a local company with local employees.
It is ideal if all passengers can participate in the cost of the limousine. When you consider the alternatives to get a group of people to a single location, not in the lap of luxury.
Approximate pricing for Cochrane Limousine Rentals
Estimates also show per person/per hour cost
10-passenger Lincoln Stretch $100 – $180 per hour
at capacity $10 to $18 per-person/per-hour

14-passenger Ford Expedition SUV $154 – $210 per hour
at capacity $11 to $15 per-person/per-hour

16-passenger Dodge RAM Pickup (extra storage) $200 – $240 per hour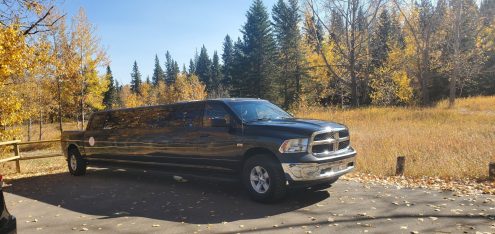 at capacity $12.50 to $15 per-person/per-hour
16-passenger PINK Dodge RAM (extra storage and appeal) $208 – $256 per hour
at capacity $13 to $16 per-person/per-hour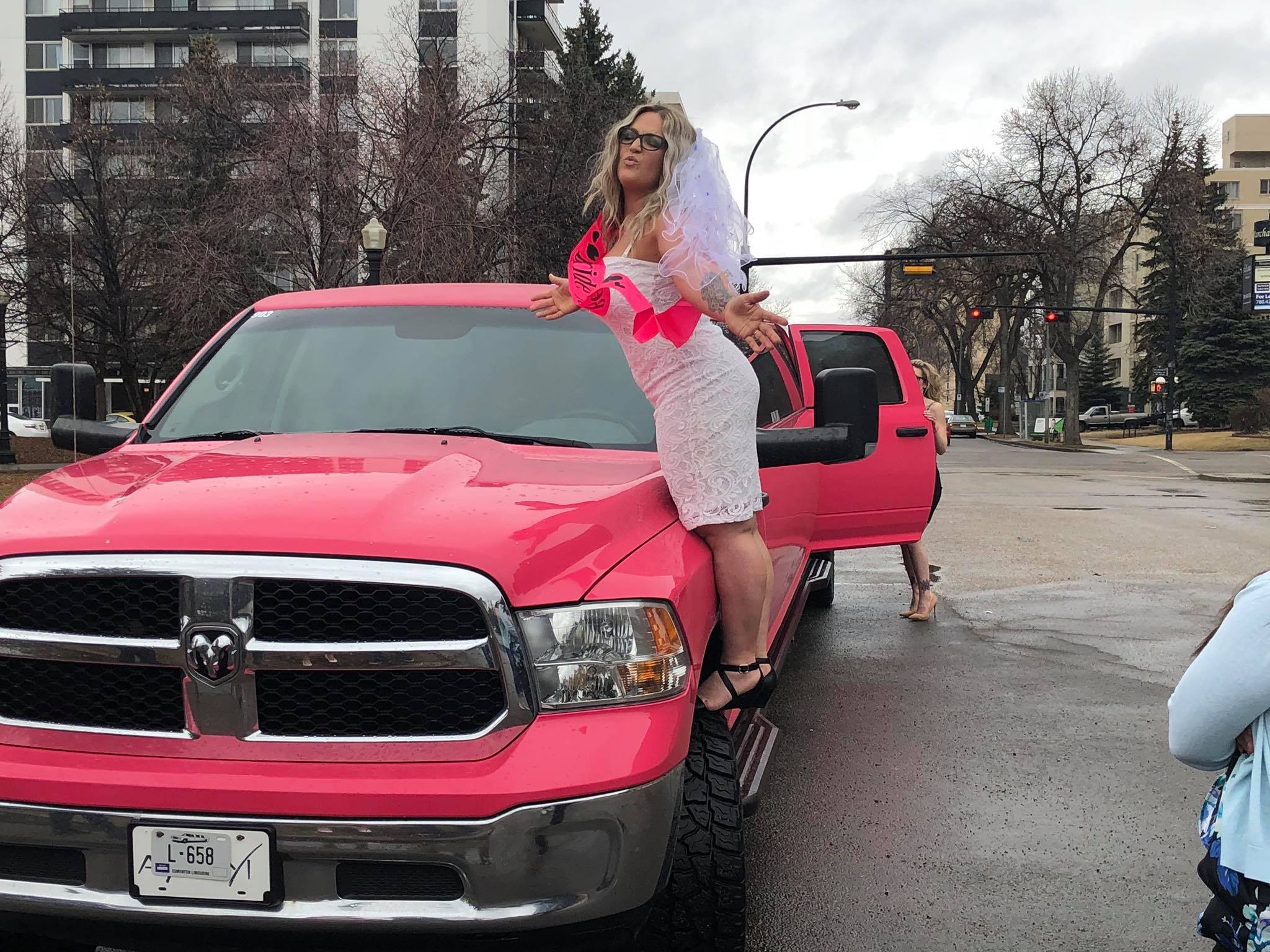 20-passenger Hummer Limo or 20-passenger Suburban Limo $225 – $280 per hour
at capacity $11.25 to $14 per-person/per-hour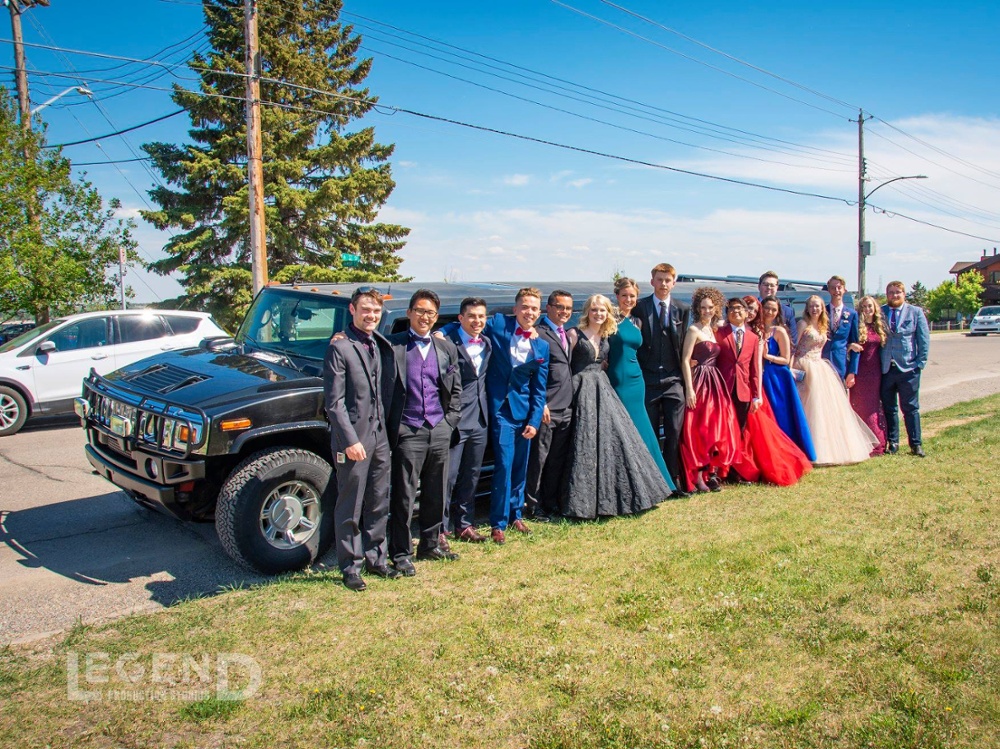 Is Alcohol Permitted?
AM PM Limo is an alcohol licensed company.
Proof of legal age for all passengers when alcohol is involved.
With every Cochrane limousine rental, your luxury ride can arrive with your desired alcohol and/or soft-drinks already on ice.
A wet-bar, plenty of ice and ice-containers, glasses or cups, and napkins are complimentary.
Choices with the Best Luxury Limousine Rentals in Cochrane
The evolution of limousines has done nothing but offer you more choice.
The standard Lincoln stretch limousine is a sedan that we've seen stars arrive in at red-carpet events and such, is somewhat on its way out. They are no longer made. Just maintained.
AM PM Limousine & Party Bus has been ahead of the curve with styles of limousines from the very start over 12 years ago. There is the legendary 20-passenger Hummer stretch limousines or the 20-passenger GMC Suburban.
Totally unique 16-passenger PINK Dodge RAM 4×4 Stretch pick-up (also available in non-pink).
The 14 passenger Lincoln Navigator is one of the first SUV Limousines available.
Cochrane's Luxury Limousine Rental Choice
As is expected with limousine service, whether it's for a jaunt to the Calgary International Airport or the wedding of the century, luxurious surroundings are standard in every vehicle with AM PM.
Leather is standard in all limousines with classic trim and surroundings.
Laser or LED interior lighting adds whatever ambiance you are after.
Music is an important aspect of most limousine rentals. AM PM has designed each sound system to offer maximum sound with easy hook-up from your music device.
If you need a wedding limo, a stretch limo for graduation, a luxury sedan to the airport, or a shuttle bus heading out to a golf course, AM PM will be there for you!
Cochrane Limo Service with AM PM
Cochrane has been an important stop in AM PM's history, yes more than just at Stampede.
The foothills surrounding Cochrane offer so many settings for weddings we've been lucky enough to be a part of and will continue to be.
Pub crawls, stags or stagettes, brewery tours, anniversaries, or maybe a private romantic date night with an ice-cream for two. Any time you need transportation services in Cochrane, call AM PM Limo!

With the town motto of How the West Is Now, Cochrane continues to be a favoured destination. Still designated as a town (the second largest in Alberta, next to Okotoks), with a population closing in on 30,000. Cochrane was eligible for city status when it was at 10,000 people.
It's called small-town feel, and Cochrane is full of it. The belt buckle of the Cowboy Trail.