The Best Red Deer Party Bus Price and Service
by ampmlimo, on Oct 19, 2020 10:44:48 AM
AM PM Limousine & Party Bus and Red Deer, have a long relationship. With offices in Calgary and Edmonton (OK, Lethbridge too), AM PM has been giving the best Red Deer party bus price and service options for over 10 years. ⠀
With special pricing for weddings and graduations, stags and stagettes, birthdays, and anniversaries to business meetings, team building, or special group outings, AM PM brings Red Deer closer to a great deal for party bus rentals. ⠀
AM PM Limousine & Party Bus Guarantees the Lowest Price in Alberta.
Red Deer Party Bus Rentals with AM PM Limousine & Party Bus
16, 24, and 30-passenger luxury party buses at your beck-and-call. Dependable and reliable service are staples of operation with AM PM Limousine & Party Bus. ⠀
We are not a company with a bus or two. With the largest fleet of party buses in Alberta, AM PM assures you of your transportation. There is never a need for us to cancel a customer's event due to a shortage of buses, as we are more than just a hobby-business.
Cost for Red Deer Party Bus Rentals
$15 to $30 per passenger for party bus rental service. So much depends on where you are going, the size of the party bus, and for how long. ⠀
AM PM Limousine & Party Bus works very hard with our customers to get the best price-fit. ⠀
Prices will include driver gratuity and GST. No hidden charges for fuel, driver, or insurance. ⠀
⠀
AM PM Limousine & Party Bus Red Deer is Licensed for Alcohol⠀
Identification with proof of legal age is required by all guests when alcohol is on-board. ⠀
Whether alcohol or/and soft drinks, AM PM can have your festive liquid on-ice and chilled when we arrive at your Red Deer party bus pick-up destination.⠀
Red Deer Party Bus Rentals with AM PM Are Not Old School Buses
A complete line of 16, 24, and 30 passenger party buses, featuring luxurious details you would expect in a limousine. ⠀
Clean and comfortable with supple leather seating and hardwood flooring. ⠀
LED or Laser-lighting that floods the interior from every angle. ⠀
Rock-n'-roll-ready, sub-woofer-powered stereos that are individually installed and tweaked for life on a party bus. ⠀
Your music is easily synced with adaptive sound systems.⠀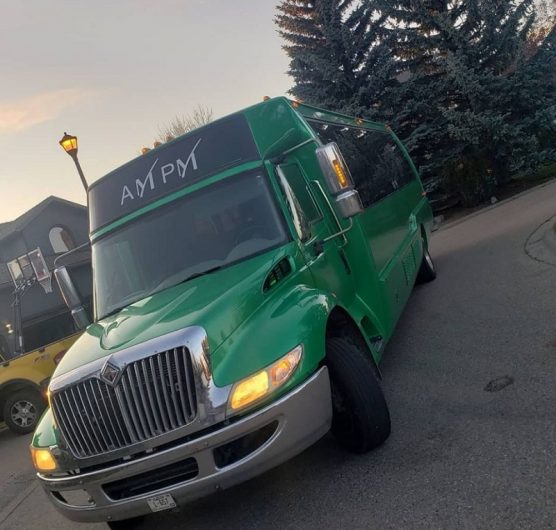 Red Deer Party Bus Rentals Available with AM PM⠀
Every Red Deer party bus rental with AM PM, is prepared with complimentary ice and ice-containers, glasses, or cups with plenty of napkins and every party bus has at least one built-in wet-bar, some have two. ⠀
16-passenger Mini Party Bus rentals are Mercedes-Benz Sprinters. We have designated this as a 'mini' party bus, due to its maximum capacity of 16. These particular buses feature the sliding side door for super easy entrance and exit. Also, there is room for standing (not recommended while driving) or sitting in the gorgeous surroundings. ⠀
24 passenger and 30 passenger party buses are totally transformed interiors, to make them a fantastic environment for the mobile party or to transfer everyone together to your special event. Unlike reconfigured school or shuttle buses, these buses are just as luxurious as a limousine.
Party Bus Rentals in Red Deer for Weddings, Stags, Birthdays, Grads⠀
Party buses are in the midst of a revolution at weddings. ⠀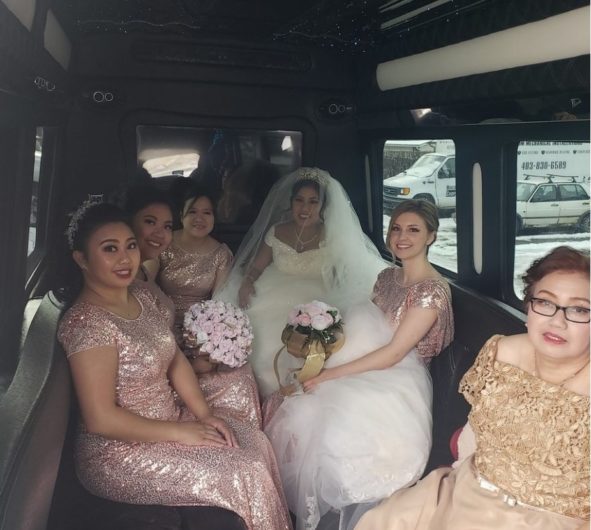 The standard limousine rental for a wedding is getting pushed by the much roomier, but the same luxurious quality, party buses. The thought of having so much room for all the wonderful clothes to keep looking fresh is important. Also, a party bus at a wedding offers simplicity in keeping everyone together for the arrival at the service, pictures, and off to the party.⠀
The Best Red Deer Party Bus Price and Service – Go Where You Want In Style
No matter if you're going to the larger cities of Calgary or Edmonton or staying close to home checking out all Red Deer has to offer, AM PM Limousine & Party Bus is there for you. ⠀
AM PM is not a faceless internet service company. You'll talk with real people and get real answers, instantly. AM PM Limousine & Party Bus owns, operates, and locally maintains close to 40 luxury vehicles.
If in Calgary, Edmonton or Lethbridge, we invite you to stop by and see our inventory in person. Most of our vehicles are located at our main office in Calgary. ⠀
Red Deer is a wonderful, growing, exciting location in central Alberta. The 3rd Alberta city to top the 100,000-population mark, and not looking to stop any time soon. ⠀
AM PM Limousine & Party Bus has been a part of the limousine and party bus needs in Red Deer since our inception close to 12 years ago. We are pleased to offer a true alternative for party bus participants who look to use local businesses.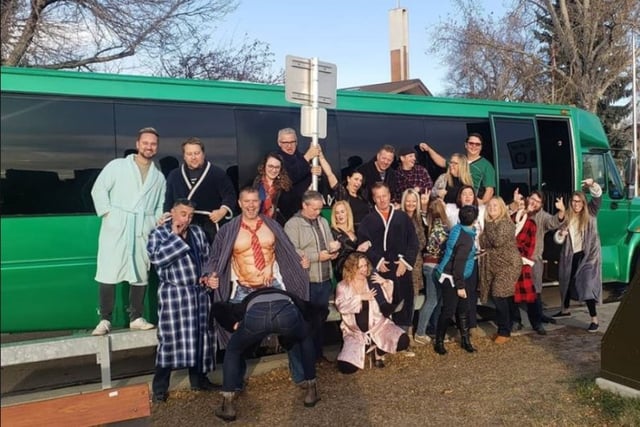 When you need transportation services, whether its to get a number of people to a Christmas party, get a large group limousine service, shuttle bus service for airport transfers, or a limo bus night out with friends and family, choose AM PM Party Bus Service and leave the driving to the professionals and have a great time!⠀