Things to do in Downtown Calgary
by ampmlimo, on Nov 13, 2015 8:30:46 AM
Things to do in Downtown Calgary
Start your tour by taking pictures of the Calgary City Hall, both the historical sandstone building & the ultra modern Municipal building where the office of the Mayor is located together with his officers.
Just across the street is the Calgary Public Library; one of the top most used library systems in North America. If you are a Calgarian, make sure to get your free library card to have a log in access to millions of downloadable books (e-books) published all over the world.
Just a block away is where you'll find the Olympic Plaza (8th Avenue Southeast ) which serves as a place for gatherings, events and concert grounds. You can sit and dine at the photo-op worthy grass terraces and take a dip at the reflective pond. If you will be visiting by winter, the pool transforms into a public Ice skating place.
Infront of the park is the Arts Commons accommodating the performing arts measuring over 400,000 square feet occupying a full city block. The Jack Singer Concert Hall is one of the multitheatre venues in the area and is a marvelous theatre to visit. Check out their website for tickets and events. https://www.artscommons.ca/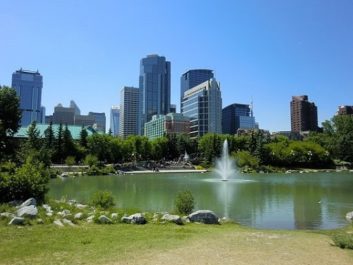 As you walk along the 8th Avenue, you we'll see the Glenbow Museum on your left side beside the Telus Convention Center. South Building The museum offers a vast collection of arts and artifacts. Admission fee is $16.00 per adult. The exhibit is open except for Mondays and varies on different time schedule. You can go to http://www.glenbow.org/ for more information. Make sure to check if the date of your trip falls on one of the convention events at Telus Convention Center for some interesting exhibits.
You might consider staying at the upscale Hyatt Regency Hotel just beside Telus Convention Center as they offer plenty of activities on their 18th floor. This 4 star hotel also offers delicious buffet meals to please one's appetite. Their Sandstone Lounge is also perfect for classic cocktails.
Take a left turn at Centre Street South and head towards 9th Avenue SW to visit the Calgary Tower and try out Sky 360 revolving restaurant for a full view of the city. By dining, you won't need to spend for the elevation fee of $18.00 going to the Tower Observation. Budget for dining ranges from $20 – 35.00 per person. If you are a fan of Agatha Christie's works and up for some mysteries, Vertigo Theatre will surely give you a thrill. Tickets are between $29 to 59.00 which includes applicable taxes and fees.
Do you want a flashback from the 19th century? Take a walk on the city's National Historic District commonly known as the Stephen Avenue. Not only is it surrounded with preserved sandstone buildings, it is also the home of the major banks, restaurants and shopping centers.
Once you head back at 8th Avenue, you will know that you're in Stephen Avenue walk when you see the walk only zone between 6:00am to 6:00pm. Vehicles are allowed before or after said hours if they have access permits for the purpose of dropping-off passengers.
There's a lot of restaurants in store for you left and right as you walk along the district from famous fast food chain to luxurious fine dining. Continue looking at your left side and visit Contemporary Calgary's exhibits at The Art Gallery of Calgary for free between Thursday to Sunday from 12:00noon til 6:00PM. You may visit their website to see what's on at http://www.contemporarycalgary.com/.
Scotia Centre is the tall tower to your right that offers a 3 level retail mall. Open daily except for Sundays and Holidays from 9:30AM to 5:30PM. Located infront of the mall, if you're a sports fanatic, Flames Central offers a virtual arena equipped with HD screen and granite bars that sets it apart from other sports bar lounges. You can make a reservation at http://flamescentral.com/.
The Core Shopping Centre will welcome and bring out the shopaholic in you. It is the most dominant shopping complex that consists of TD Square, former Calgary Eaton Centre and the Holt Renfrew building with over 160 boutiques from local to branded names. Don't miss the Devonian Gardens at the 4th floor of the mall as it offers a good background for photo-ops. There's also a cool 26m high metallic tree sculptures located at North of Banker's Hall between 2nd and 3rd Street Southwest that breaks up the wind.
This is a great help for painters to keep their canvas in tack.
Stephen Avenue also offers nightlife entertainment with clubs and activities you can enjoy for the rest of your stay. Be ready to walk all day and check out the +15 to access the Skywalks connecting dozens of downtown Calgary buildings. Visit http://www.calgaryplus15.com/.
If you would like a guided tour, please contact us at 403-475-5555 and one of our knowledgeable drivers would be happy to show you around. Enjoy your stay in Calgary!