Transportation from Edmonton to Jasper has Never Been Simpler
by ampmlimo, on Nov 12, 2019 1:22:59 PM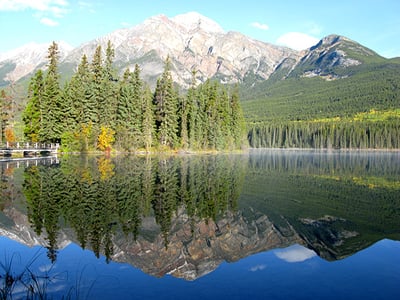 Alberta residents and visiting travelers alike find the perfect getaway in the alpine town of Jasper. People from around the world flock to this stunning location for breathtaking views of the majestic Canadian Rockies, brilliant glacier-fed lakes as well as picturesque rivers and forests.
If you haven't had the opportunity to visit this amazing location, there's no better time than the present. Furthermore, if you're traveling between Edmonton and Jasper, it's easy to find just the right transportation to suit your needs.
Whether you need a ride from Edmonton to Jasper for a large group of travel companions or an Edmonton limousine for just a few close friends or family members, you can make the trip in style, comfort, and luxury.
Pricing for Edmonton to Jasper Transportation
AM PM Limo offers affordable rental rates to make your Jasper vacation dream a reality! Here are some of the current rates for our chauffeured travel options:
One-way sedan or van:
3- passenger Cadillac or similar: $850
6- passenger SUV (Cadillac) or similar: $995
10- passenger Chevy Express passenger van or similar: $995
8-10 passenger limousine:
24-passenger bus:
Additional fees:
5% Goods & Service Tax (GST)
A gratuity for the driver

Edmonton

Airport (YEG) pickup charge

Jasper

National Park Entrance/User Fees payable at the Park's Gate (If applicable)
Luggage trailer is available at possible extra costs; ask for details
We are happy to discuss the needs of your individual group, to ensure the best ride for your trip, as well as the best rental prices available. You can reach our expert booking representatives at any time of day or night by calling 780.666.2552 — we are here around the clock to make certain your booking is a fast, easy, and hassle-free experience.
Why Travelers Reserve Chauffeured Transportation from Edmonton to Jasper
There are numerous reasons for renting a ride to and from Jasper, but regardless of how many people are traveling, or for what purpose, a chauffeured limousine or van ensures that everyone in your party can fully enjoy the ride, the view, and the company of companions. If you have a large group travelling from Edmonton to Jasper, a limo bus can get you all there together! Nobody wants to miss out on the fun because they're stuck being the driver.
Here are a few benefits of a Jasper transportation rental:
Professional chauffeurs know the region and the roadways, as well as the best times, to travel in the area
Riders can take in breathtaking views, in addition to no traffic concerns
It feels GREAT to revel in the luxury of a world-class chauffeured limousine; a way to treat yourself and your companions to the bucket list experience you all deserve!
Hire an Edmonton Limousine for Your Jasper transportation
AM PM Limo has provided years of first-rate service for satisfied passengers throughout Alberta, including Calgary, Edmonton, Lethbridge, Red Deer, Banff, Lake Louise as well as Canmore. Our fleet of vehicles is the newest and nicest anywhere in Alberta, therefore our customer service is second to none. (Just ask the hundreds of customers who have posted rave reviews about us on Facebook and Google!)
If you're not quite ready to book your limousine, you can get started with a fast, no obligation price quote online.
When you're ready to reserve your transportation from Edmonton to Jasper, (or if you have questions,) just give us a call at 780.666.2552 and we'll work to accommodate all your important travel needs. We also offer transportation from Calgary to Jasper if needed!
If you are travelling on a budget, these simple travel tips can help you plan your perfect vacation.
We can't wait to be of service to you!