by ampmlimo, on Jun 29, 2020 1:07:59 PM
You have probably heard the term 'Party Bus' before. But what is it? What does it come with? How do you get one?
Well, you have come to the right place to find out!
The Basics
A party bus is just that, a bus that you can party on! It can get you to your location safely, while you relax and party on the inside! They operate day and night and there are a variety of models, sizes and features available. Each party bus has a unique design and can range from an old-school bus conversion to a luxury limo bus.
Different types of Party Buses
School Bus Conversions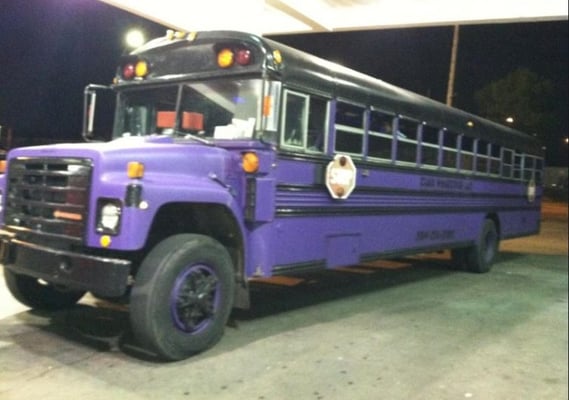 Some Party Buses are made from retired school buses. These are typically 20+-year-old 56 passenger school buses that have been gutted and made into a Party Bus.
The outside may be painted all black or bright and multicoloured. This is to hide the school bus style windows. The doors are often still the standard, narrow school bus doors.
Although the interior has been changed to the circular limousine style seating, the floors space is quite narrow so taller people may have their knees touch with those across the aisle. As the vehicle was originally called a 56 passenger school bus, technically they can still say it will seat 50+ passengers.
However, keep in mind that with the new design on the interior, this will be an extremely tight squeeze. Typically, there is no divider between the driver and the passengers. Also, school buses don't have A/C units, this party bus can get quite hot.
Shuttle Bus Conversions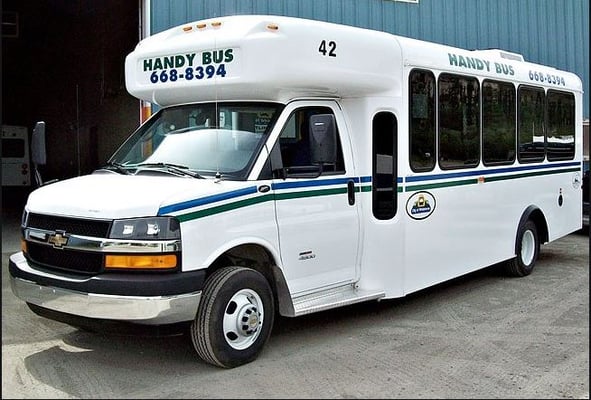 Another party bus conversion comes from retired shuttle buses. Like school buses, this is an older vehicle with high mileage so not always reliable. They are completely redone on the interior and may be painted black or white on the outside. Also like school buses, there is typically no divider between driver and passengers with these converted limo buses.
Luxury Party Buses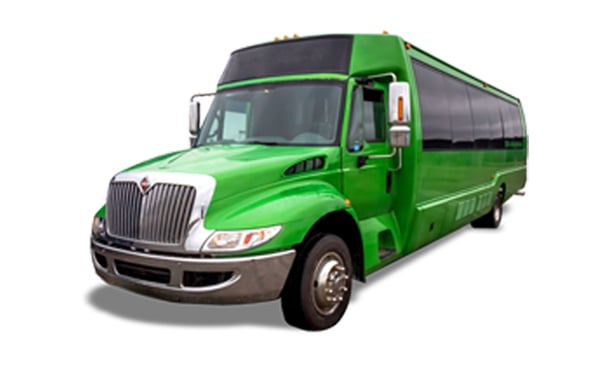 Luxury party buses are those that have been built as such by the manufacturer. As these are often new models, aside from the 'new look' on the inside, the vehicle itself is new. Low mileage and use make for a very reliable vehicle. The outside is often discrete and classy.
As these were created specifically for recreation and entertainment in mind, the A/C and heat are built into work throughout the entire vehicle for passenger comfort. The driver is also separated by a divider from the passengers, allowing privacy for the group. New sound systems and lighting are a great addition to the dance floor in the middle of these wider, more comfortable vehicles.
Is the Party Bus Licensed
Party limo buses are a unique place to have fun with friends and family. This often includes the ability to consume alcohol on board. If you want to drink on your party bus, ensure the company you book with is licensed for this. Some companies may allow alcohol without the proper license.
This is not only illegal but could also result in fines for both passengers and drivers alike. If a company is willing to allow alcohol illegally, they may also be willing to allow more passengers than the legal requirements, thus, compromising safety.
Always make sure any transportation service company you choose has all the proper licensing when renting a party bus or limo services.
Making a Party Bus Reservation
Once you've determined the style of Party Bus that you prefer, find a local company that has this option available. A quick internet search will bring up many options for your area. Book in advance when you can as they tend to book up quickly. When you contact a company, make sure you have all the information they will need to get you a price and/or make your booking.
You will need to know the date, time, locations and number of passengers for your trip. Get copies of your reservation, the cost you agreed to pay, terms and conditions and the cancellation policy.
Book With AMPM Limo & Party Bus
A party bus rental of any style is a safe way to get to your destination, or even as an alternative party location itself! Whether it's a family-friendly ride with the kids, a birthday party, graduation, stag or stagette, corporate event or even a wedding, a party bus is a great addition to your event.
Book with AM PM to get professional chauffeurs, the newest and largest fleet to choose from and thelowest prices guaranteed! Climb aboard, sit back, relax and enjoy your party on wheels!