How to get a limousine quote in Calgary
by ampmlimo, on May 18, 2019 6:09:45 AM
If you are a first-time limo shopper you will find that Calgary limousine companies require a lot of information to be able to provide a simple quote. But there is a reason for this. It is to provide you with a quote for the exact limo rental service you are looking to get. When looking for a Calgary limousine service provider, give them the details of what your service needs are.
Do you want the newest and most unique limo available? Or perhaps you just want to find cheap limos in Calgary. Or maybe you just want a company with great customer service!

This article will provide a list of things that you will need to have before you call around for limo service in Calgary. If you follow these guidelines, you will find that you will get the most accurate quotation from most Calgary limo companies.
Here's the information needed for you to get an accurate quote:
Date of your event?
Is it a one way service or if you'll be needing a return trip?
Do you want to hire the limousine service for the whole time or you just need to get there and then come back?
Do you want to have the driver waiting outside when you are in the restaurant or at your event?
The number of passengers in your party will be very important because this will determine what type of vehicle will be needing. You may be surprised to find out that most companies offer limos and party buses that can accommodate between 1 and 30 passengers. Calgary limo rates typically increase with the size of the vehicle.
You can go directly onto limo websites and check out their fleet to determine what type of vehicle you will need. Perhaps you need a party bus that seats 24 passengers or maybe you need a smaller Lincoln Stretch limousine or a large Hummer Limo.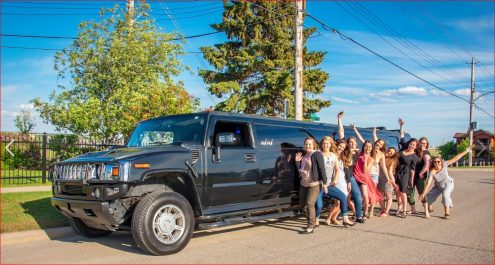 Is this for a special occasion, such as a graduation ceremony, bachelorette party, sporting event, airport transfer, etc?
You want to be upfront with the limousine company about your plans is so that they can give you the best rates. Sometimes people think that if they tell the limousine company they are looking for a graduation or wedding limo, then the company will automatically increase the price.
Most limo companies do charge a premium to provide special event services as during Wedding and Graduation seasons, the companies are already so busy. Also, based on the information you provide, the company will likely be able to tell what type of event it is for anyway. So it is best to be honest so that they know exactly what it is you are looking for.
Where is the pick-up location and the drop off location?
If you're based in the City of Calgary and getting picked up in Calgary and getting dropped off in Calgary then there is a set Limo rate. When you are picked up outside of Calgary for example Airdrie , Okotoks , Cochrane , High River , Strathmore some companies do charge a premium for that so you want to make sure you clarify this ahead of time.
If you want to have the best limo experience you want to make sure that you want to hire a local Limousine Company in Calgary
Please make sure when you are researching Calgary limo prices that you go on the company's website and make sure that they do have the vehicles in their Fleet that they are advertising. You can ask them if they are located in Calgary or if they are located outside of Calgary and Outsourcing their work to somebody in Calgary. If you want to have the best limo experience, make sure that you hire a local Limousine Company so that you have more control over your own reservation.
If you book through a third-party source, for example, Party Bus Canada or LX limo, they will book your ride and then forward your reservation to a local limousine service provider anyway. If you deal directly with the local company you will get the same vehicle without paying a premium.
It is always best to ask if they are a local company. Make sure look at the phone numbers you're calling and ensure it is a local area code and not a 1-800 number. Also, some companies have pictures on their website that they have pulled off the internet and do not reflect the fleet they have. If it is a local company, you should be able to go see the limo in person before booking anything.
If you need ideas on things to do, check out our blog on What To Do In Calgary for ideas!
Happy limo shopping!
AM PM LIMO & Party Bus Rental
,

2359 78 Ave NE

,

Calgary

,

Alberta

T2E 7H6

,

Canada
-
Phone:

4034755555
URL:
Price range: $$