Should I Rent a Limousine or a Party Bus For My Wedding
by ampmlimo, on Jun 29, 2020 11:24:24 AM
So you're getting married. That's great! How will you get to your ceremony? A limousine or a party bus is a great way to safely get to your ceremony, photo locations and reception. Luxury transportation can make your special occasion just that much greater!
There are some things you should consider when you are deciding between a limousine and a limo bus for your wedding day transportation.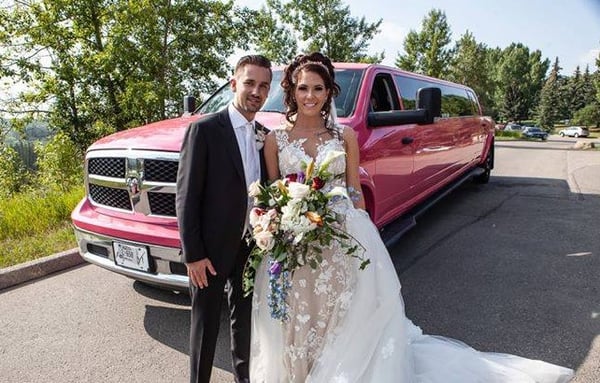 Do You Have a Theme For Your Wedding
Most weddings have a theme, colour selection or specific style to them. You will want to consider this when deciding between a limousine and a party bus. You may prefer the more classic look of the limousine in black or white.
Maybe you want a pink limo to go with your colour scheme. Perhaps a party bus will work better for your fun celebrations!
Sometimes just the number of people you are transporting will decide for your group. A small group can utilize a small limousine.
A large group may need the room a party bus offers. There is a wide variety out there for you to choose from.
How Long Will You Need Service For
Typical wedding limousine and party bus services start with a pickup of the groom and his party first, then take them to the ceremony. Then the same limo will go and get the bride and her party to take them to the ceremony. The limo driver will wait through the ceremony. During that time they will do any necessary tidy-up and decorate the car, get champagne on ice and be ready for when the wedding party exits the ceremony.
Then you're off for photos with a final drop-off at the reception venue. That time block is usually anywhere from 3 – 8 hours, depending on how many stops, where you are going and how long you need for photos.
Limousine service can not only transport your party from place to place, but a beautiful stretch limousine can add to the background of your wedding photos!
If you are going to be in the vehicle for a significant amount of time, the room a party bus offers might be beneficial. Taller guests don't need to worry about low ceilings and older guests don't need to worry about getting in and out of a lower limousine. Renting a party bus offers easy access for all guests!
Who is Giving You the Service
You can also ask how many limousines and party buses a company has. Some limo rental service companies have only one or two available. As any motor vehicle can have maintenance issues that arise from time to time, you want to make sure you book with a company that will have a backup available. The last thing you want to worry about is if the limo or party bus you have booked has an unexpected mechanical issue on your special day!
You can also request to view the limousine in person. For example, if it is for something as special as your wedding day, you may want to see it in person as website photos may be outdated or of a similar, but different model. Be wary of companies that will not allow you to visit in person.
Some limo service companies do not own any actual vehicles and will farm out the work to a third party. It is always best to work directly with the company that will be providing you with service to avoid any miscommunication.
Can You Have Alcohol on Board
If you wanted to add some liquor to your trip, you will need to book with a company that is licenced for this. Some companies sell liquor packages that can be purchased directly through them so that you do not need to worry about purchasing or bringing along anything extra on your wedding day. Make sure you find out the rules around alcohol consumption before you book.
What is Your Budget
Wedding packages typically range between $299 and $999 depending on what style you have chosen and where you need to go. But don't just focus on cost. You want the best service AND the best price. Going with the lowest cost may not get you the exceptional service you are looking for on your big day.
Many limousine and party bus companies will work you to make sure you are getting what you need to make your day spectacular. For example, you can have gratuity added to your bill ahead of time so that on the day of, nobody needs to worry about tipping the driver!
Who Should You Transport
Booking a limousine for the wedding party is great, but what about your guests? If you have many people coming from out of town, you may want to provide a shuttle service between the hotel and ceremony and/or reception. The money spent is worth it to get everyone there together and on time. In fact, it can even be cost-saving if rental cars aren't needed!
A lot of wedding receptions run late and may involve alcohol. You can also book a party bus for shuttle service at the end of the night for your guests so that they can all safely get home/to their hotel. And let's not forget the bride and groom! Some limousine companies will book a Safe Ride Home in a luxury sedan or stretch limo for the Bride and Groom as part of their wedding package.
Before the Wedding
If you do not need luxury transportation services during your wedding, Bachelor and Bachelorette parties are another time that limo and party bus rentals work great! Call AMPM Limo & Party Bus today at 403-475-5555 or send us an email at info@ampmlimo.ca for a free, no-obligation quote!